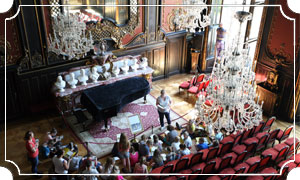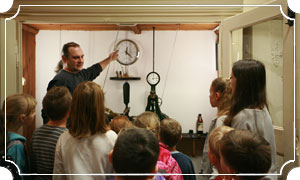 EDUCATIONAL ACTIVITIES

At the court of the Hochbergs (4th grade and older)
What did the marshal of the court do? Who were the members of the court? What were the responsibilities of a footman? Answers to these and other questions can be found during the educational activities At the court of the Hochbergs, which take place on the first and second floor of the castle.
A castle adventure (1st to 3rd grade)
Castle interiors hide many secrets and mysteries. Who lived here? What was the life of the castle's former owners like? All adventure seekers must be inquisitive and eagle-eyed. Become a daredevil adventure hunter and take part in the educational activities A castle adventure. Solve mysteries included in the materials handed out during the event to expand your imagination and improve your investigative skills.
Time travel at the Castle (youngest children)
We are embarking on a time-travel adventure. How many clocks are there in Pszczyna Castle? The youngest children are invited to this clock-seeking quest. Together with an educator, we will get to know the Castle, locate all the clocks and mark them on a map.
WORKSHOPS SUPPLEMENTING SCHOOL CURRICULUMS:
Greetings from the Castle Museum in Pszczyna (the art of letter writing)
Who needs a portrait? / Portrait or a selfie?
The castle below stairs
Walk your work of art (animation activity focusing on plein air painting)
What should we know about the Polish hymn? (younger children)
Information and reservations:

Education Department, from Monday to Friday, 7:30 to 15:30, phone 32 449 35 70 ext. 35. (3)